Paths less trodden often lead to the most precious revelations. Beneath little-known terrains lie experiences etched on a treasure trove of memories. Beyond curtains of verdant forests, and concealed by a hidden lagoon, rests a well-kept secret ready to be unveiled: LIHIM at El Nido, Palawan.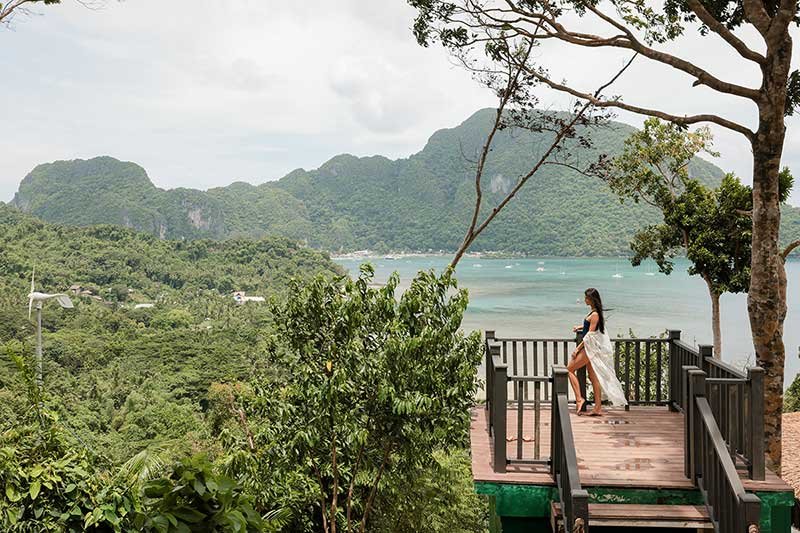 LIHIM unveils a transformative resort experience that reconnects mind, body, and senses to Luxury in Simplicity. The journey begins as you cruise through Bacuit Bay into a hidden lagoon. Here, an otherworldly kaleidoscope of emerald green, sapphire blue, and turquoise dances under the sun. Beneath its surface, El Nido's storied underwater ecosystem breathes with vibrant colors unknown to life on land. Limestone cliffs rise majestic gothic cathedrals, cloaking nature's prized gems.
Paradise Found
As the bow of a private boat cuts through crystal waters, a sweet ocean breeze brushes against the skin. It is accompanied by sea sprays that leave a distinct taste of the sea on lips. The air is balmy, immediately soothing senses into a tropical state of mind. And on the opposite side of the clearing, lies an intimate patch of immaculate white shores. It is a piece of paradise hidden from the rest of the world—now found.
LIHIM treats every encounter and experience as a ritual. From the breathtaking views on the approach up to when guests set foot on the property's secluded beach, a sense of luxury in simplicity is immediately made palpable. Anchored in world-class Filipino hospitality, the welcome is warm, thoughtful, intimate, and personal. It is a prelude to the distinct brand of service that guests can expect throughout their stay.
Like clockwork, final touches to a festive beachside spread are made just in time for arrivals. With sun, sea, and shore as its fitting background, the welcome feast is a medley of flavors and textures that capture life in paradise. Spirits, libations, tropical-inspired cocktails, and fresh nectars are also set up for celebratory toasts. The occasion: Paradise Found.
Just Us In Paradise
A leisurely stroll towards the depths of tropical forest, 170 meters above sea level, leads to villas that intertwine seamlessly with nature. Informed by the architecture of Philippine nipa huts, these private sanctuaries are fitted with all the amenities and comforts of five-star accommodations. Sheltered by thatched roofs covered in Anahaw leaves, local décor, weaves and art pay homage to the rich artisanal culture of island life.
High regard for privacy guides how accommodations are configured throughout the property. Each villa is intended to be cocooned in nature. They are discreetly veiled by foliage and a blanket of serenity from nature's embrace. At LIHIM, the sound of waves crashing, songs of birds, the cool ocean breeze, and a picturesque view of Bacuit Bay are constant companions from sun up to sundown. Here, it's just you and nature in paradise.
Healing with Nature
Experiences and encounters at LIHIM reconnect mind, body, and senses to nature—and ultimately, to one's best self. Wellness is a cornerstone that permeates every hidden nook and corner. Nourishment, treatments, tours, and activities are all tied in with healing, transformation, and restoration as the ultimate goal.
The resort's 24-hour dining outlet, Gana, showcases the diverse flavors and restorative benefits of farm-to-table fare. LIHIM also offers nutritional programs for guests, specifically designed to detoxify and defy the hands of time. They also hold cooking camps that inspire culinary creativity. Utilizing time-honored cooking techniques, fresh produce from earth and sea, do more than satisfy appetites. They sustain, enlighten, nourish and heal.
Nestled at the heart of the forest, the spa is an open sanctuary surrounded by lush foliage. Its unique collection of wellness treatments harnesses the healing powers of plants, herbs, and touch. Drawing from traditional healing arts, while combining them with state-of-the-art equipment, each treatment is designed to soothe, restore and revive the weary soul.
LIHIM also aims to elevate island activities and tours into experiences. Yoga sessions set the tone for an invigorating day on the island and a restful night's sleep under a canopy of stars. Hikes and walks in nature followed by moments of stillness bring back a sense of connectedness to earth and self. Tours are similarly designed to enhance a sense of oneness with the planet, community, and culture.
The island's best-kept secrets make themselves known at LIHIM. But more than that, each getaway awakens a new sense for connecting with the earth, island culture, community, and self. No two experiences are ever alike, and with every reintegration back to reality, nobody ever really comes back the same.
Unravel the secrets of paradise and pre-book your stay. LIHIM Resorts El Nido opens on September 1, 2021. For reservations, email us via reservations@lihim.com.